Jet Bingo Download Instructions
Downloading & Installing Jet Bingo is Easy!
Jet Bingo's is famous for its ease of installation. Generally speaking, downloading and installing Jet Bingo is a very smooth process and takes just a few minutes to complete. Whether you go for the 3-step install, or need more specific instructions, the Jet Bingo software download and installation guide below will help you start playing in a breeze.
Here's the quick version of the Jet Bingo download steps – and how to get started – for those who are already familiar with carrying out such installations. More follow.
You are only three steps away from hours of fun…
1.
and Run Installer

Click on "Save File" and then
double-click on the .exe file.

2. Register your details
with Jet Bingo

Enter your details and create
a username to play as.

3. Start playing games
at Jet Bingo!

Double-click the icon on your
desktop to launch Jet Bingo.
That's it! Jet Bingo should now be set up and ready to play.
Step-By-Step Instructions:
| | |
| --- | --- |
| | Download & Installation |
Click the "GET STARTED!" button on the official to download the
Jet Bingo software file.
---
Click the "Save File" button.
---
Once the Jet Bingo download is complete, double-click the "JetBingo_Downloader.exe" file located in the folder on your computer where downloads are saved. Click "OK" if you are asked to open the file.
---
| | |
| --- | --- |
| | Jet Bingo Registration |
Fill in your account registration details correctly.
Your Jet Bingo welcome bonus will be credited to your account upon signing in.
| | |
| --- | --- |
| | Install Jet Bingo |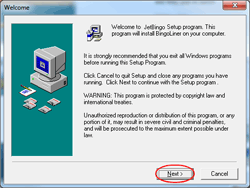 Click the "Next" button and wait for the Jet Bingo game to finish the installation process.
---
Double-click the JetBingo icon on your desktop to start playing!
That's it! Jet Bingo should now be installed and ready to go.
Troubleshooting / Common Download Problems
These are some of the most common Jet Bingo download issues.
If you are a Windows XP SP2 user, your automatic downloads may be blocked by Internet Explorer. Here's how to bypass this: (1) right-click on the Information Bar and (2) select Download File.