Jet Bingo Download Instructions
Downloading & Installing Jet Bingo is Easy!
Jet Bingo's is known for its ease of installation. Under most conditions, downloading and installing Jet Bingo is a very straightforward process and takes a few minutes to complete. Whether you opt for the 3-step install, or want more comprehensive instructions, this Jet Bingo software download and installation guide will help you start playing in a snap.
Here's the quick version of the Jet Bingo download instructions – and how to start playing – for those who are already experienced with doing such installations. More follow.
You are only 3 steps away from lots of fun…
1.
and Run Installer

Click on "Save File" and then
double-click on the .exe file.

2. Register your details
with Jet Bingo

Fill in your details and choose
a username to play with.

3. Start playing games
at Jet Bingo!

Double-click the icon on your
desktop to launch Jet Bingo.
That's it! Jet Bingo should now be installed and ready to play.
Step-By-Step Instructions:
| | |
| --- | --- |
| | Download & Installation |
Click the "GET STARTED!" button on the official to download the
Jet Bingo software file.
---
Click the "Save File" button.
---
Once the Jet Bingo download is complete, double-click the "JetBingo_Downloader.exe" file located in the folder on your computer where downloads are saved. Click "OK" if you are asked to open the file.
---
| | |
| --- | --- |
| | Jet Bingo Registration |
Fill in your account registration details correctly.
Your Jet Bingo signup bonus will be credited to your account once you sign in.
| | |
| --- | --- |
| | Install Jet Bingo |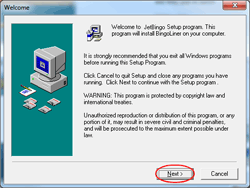 Click the "Next" button and wait for the Jet Bingo game to complete the setup process.
---
Double-click the JetBingo icon on your desktop to start playing!
That's it! Jet Bingo should now be installed and ready to go.
Troubleshooting / Common Download Issues
These are some of the most common Jet Bingo download issues.
If you are a Windows XP SP2 user, your automatic downloads may be blocked by Internet Explorer. Here's how to bypass this: (1) right-click on the Information Bar and (2) select Download File.